We love these individual cherry and white chocolate loaf cakes, super sweet with a little burst of tartness from the cherries, perfect for afternoon tea!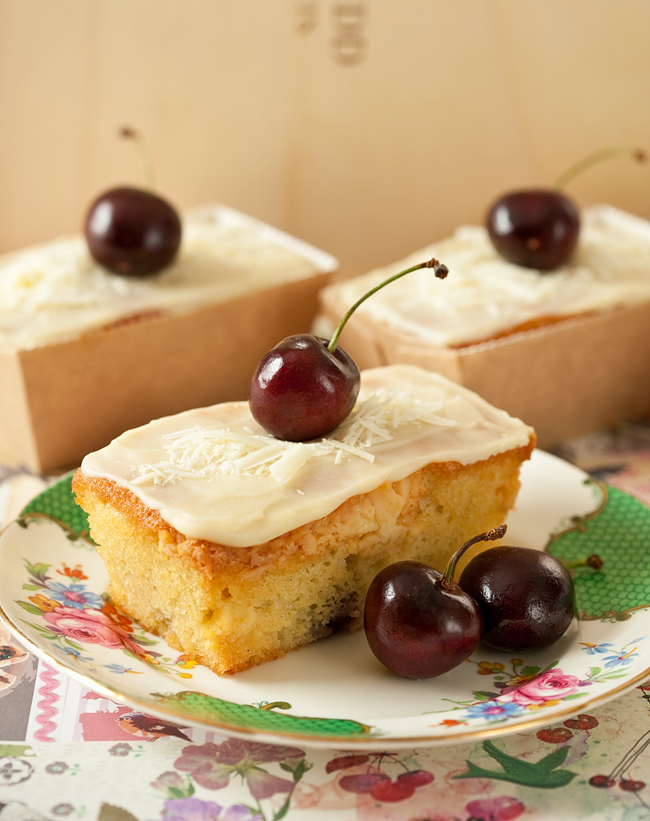 Cherry and White Chocolate Mini Loaf Cakes
Preparation time 20 mins Baking time 20 mins Makes 12
Content continues after advertisements
For the cakes:
225g butter, softened
225g golden caster sugar
4 eggs, beaten
2 tsp vanilla extract
225g self raising flour, sifted, plus extra for dusting
375g fresh cherries, pitted
175g white chocolate, chopped into chunks
For the frosting:
100g white chocolate, broken into small pieces
140g half fat mascarpone, at room temperature
For decoration:
White chocolate curls
12 fresh cherries
Method:
Preheat the oven to 180˚C/160˚C fan/gas 4. Place 12 mini loaf cake liners on a baking tray.
For the cakes, beat the butter and sugar together until light and fluffy. Add the eggs, a little at a time beating well after each addition. Stir in the vanilla extract then gently fold in the flour until the mixture is smooth and fully combined.
Dust the cherries with a little flour and gently mix half of them into the cake mixture. Stir in half of the white chocolate then divide the cake mixture equally between the mini loaf cake liners. Top the cakes with the remaining cherries and chocolate, pressing them lightly into the mixture.
Bake for 20 mins until a skewer inserted in the centre of the cakes comes out clean – do not mistake melted chocolate for raw cake mix. Transfer the cakes to a wire rack and allow to cool.
For the frosting, melt the white chocolate in a heatproof bowl over a pan of gently simmering water. Remove from the heat then quickly stir in 1 tbsp of the mascarpone then beat in the rest. Be careful not to overbeat the mixture or it will go grainy. Spread over the top of each loaf cake then decorate with white chocolate curls and a fresh cherry.