Tender peanut butter crumb cupcakes with fluffy peanut buttercream, chocolate sauce and peanut butter crumbs.
Chocolate Peanut Butter Crumb Cupcakes
Ingredients
For the Cupcakes
125g self raising flour
125g golden caster sugar
¼ tsp bicarbonate of soda
pinch salt
135g unsalted butter, softened
2 large free range eggs
50g peanut butter
1 tbsp milk
1 tsp vanilla extract
chocolate sauce, homemade or shop bought
For the Buttercream
Content continues after advertisements
150g unsalted butter, softened
60g peanut butter
270g icing sugar
1 tbsp milk
For the Peanut Butter Crumb & to Decorate
50g peanut butter
50g icing sugar, sifted
more chocolate sauce, to finish
Instructions
Preheat the oven to 170 degrees C fan assisted and line a 12 hole cupcake tin with paper cases.
Sift together the flour, sugar, bicarbonate of soda and salt then add the butter, eggs and peanut butter and beat with an electric whisk for 60 seconds, until smooth. Add the milk and vanilla extract and whisk a further 20 seconds or so until combined.
Divide the mixture between your paper cases and bake for 20 minutes, or until they spring back when touched. Allow to cool completely.
To make the buttercream, beat together the butter and peanut butter until pale and fluffy, about 5 minutes. Sift over half the icing sugar and beat carefully to combine. Sift over the remaining icing sugar then add the milk and beat again until really smooth and light, another 3 - 5 minutes.
To make the peanut butter crumb, blitz the peanut butter and icing sugar in a food processor for 1 - 2 minutes until little crumb-like morsels form.
To assemble, poke a hole in the middle of each cupcake with a skewer, twist to widen slightly then fill with a trickle of chocolate sauce. Pipe on the buttercream, drizzle with more chocolate sauce then sprinkle with peanut butter crumbs.
Best eaten on the day of making, these cupcakes will keep in an airtight container for 2 days. If you live somewhere very hot, you might want to pop them in the fridge.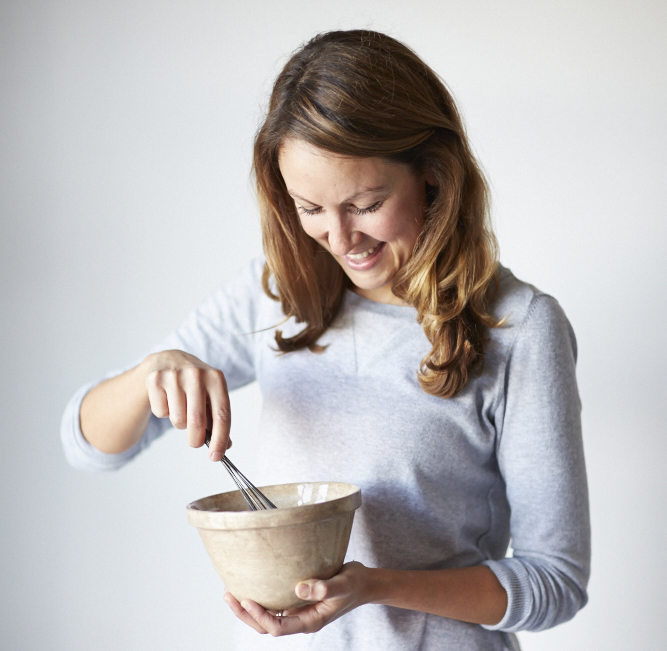 About the author: 
Nicknamed at the age of two by a great aunt who noticed that Kate's appetite for bread was considerably bigger than she was, she's been a life-long fan of anything baked. For Kate, happiness is cooking, baking and sharing what she make with friends and family. She lives in London with her husband and chief taste tester in
The Little Loaf
 kitchen, and the only person who can rival her egg consumption in any given week! The Little Loaf blog is collection of recipes made with good, honest ingredients and a little bit of love, often accompanied by a hefty dose of nostalgia. You can view Kate's
website here
, or say hello to her on 
Facebook
, 
Twitter
, 
Instagram
 or 
Pinterest
.